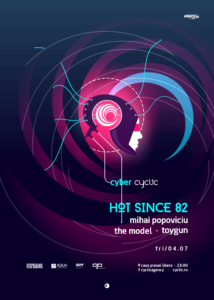 Cyber w/ Hot Since 82, Mihai Popoviciu, The Model, Toygun / 7 aprilie /Casa Presei Libere
Hot Since 82 se intoarce in Bucuresti pe 7 aprilie, alaturi de Mihai Popoviciu, The Model si Toygun la eventul Cyber by Cyclic. Fondatorul labelului Knee Deep in Sound este unul dintre cei mai buni producatori din UK, despre care se spune ca a avut o ascensiune "meteorica". Nu folosim noi cuvinte atat de mari, dar ne place la nebunie muzica lui.
De la UK trecem la Romania, unde-l avem pe Mihai Popoviciu ca unul din cei mai buni producatori. Prea departe nu sta nici The Model, ownerul labelului Adult Central, pe care-l identificam dupa sunetul sau propriu – Power House. Toygun completeaza line up-ul pentru Cyber.
Se spune ca ne indreptam spre o lume cyber ca si cum ar fi un lucru rau, dar ce nu se mentioneaza e ca in lumea asta se asculta cea mai buna muzica electronica. Asa ca hai sa ne pregatim pentru viitor pe 7 aprilie, la Casa Presei Libere!
Hot Since 82
Mihai Popoviciu
The Model
Toygun
Join the event: http://bit.ly/CyberCyclic